Survivalism
After Running Out Of People Willing To Take The COVID Shot, Baltimore Resorts To Shaming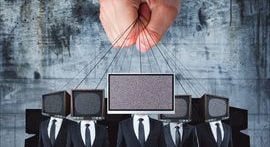 A new ad campaign in the city of Baltimore is targeting those "hesitant" or unwilling to take the experimental gene therapy shots.  Baltimore city health bureaucrats have decided to get "creative" with their assertive measures and propaganda push for the "vaccine," even resorting to nagging, shaming, and possibly even crossing a moral line.
Some seem surprised that the government would "cross a moral line" yet that's exactly what they've already done by intentionally mislabeling the gene therapy shots as "vaccines" so they can be used during the "state of emergency" they declared and at the same time, ensuring big pharma companies will not face any liability for the damages done (including the death) of those who take these shot.
COVID-19 mRNA Shots Are Legally Not Vaccines
Mimosas with the girls this weekend? It's a bad idea if you haven't been vaxxed.

Visit https://t.co/S8vddiR44T or call 443-984-8650
M-F 8:30am-6:30pm, Sat: 9:00am-1:00pm #BALTIMOREvsCOVID
photo by @fizkes pic.twitter.com/NTtAaYirFX

— B'more City Health (@BMore_Healthy) April 30, 2021
"Mimosas with the girls this weekend? It's a bad idea if you haven't been vaxxed," says one of the recent ads posted by the city's health department, featuring a pouting woman being lectured by a male partner. But of course, all in the name of equality, the city also released the following ad of a woman lecturing her male partner for not taking the jab.
Hanging out at Kevin's house is a bad idea if you haven't been vaxxed.

Have the conversation. Visit https://t.co/S8vddj8EWr or call 443-984-8650 to schedule your appointment!#BaltimoreversusCOVID pic.twitter.com/PO9rY6sMz9

— B'more City Health (@BMore_Healthy) April 29, 2021
Other ads that were created appealed to the city's African-American residents, as well as Spanish-speakers – who were told "no papers, no problem."
Baltimore gonna Baltimore pic.twitter.com/9iUtjs0dR9

— Jack Posobiec (@JackPosobiec) May 3, 2021
More than a few Baltimoreans recognized the ominous tropes from the much-panned UK ads, which seemed designed to instill fear rather than impart knowledge.

Meanwhile, the city "has taken a proactive approach, partnering with hospitals and pharmacies to create mobile vaccine teams to vaccinate those most at risk of severe Covid-19," ProPublica reported on Saturday. –RT
11/ Back in Baltimore, as fewer people seek shots at mass vaccination sites, the city has taken a proactive approach, partnering with hospitals & pharmacies to create mobile vaccine teams to vaccinate those most at risk of severe COVID-19.

— ProPublica (@propublica) May 1, 2021
It sure looks like half of the population may be as good as it gets for these shots, and that will diminish whatever role it is they play in the overall Great Reset to the New World Order. (Again, it's just speculation at this point, so use your own discernment. All we know is that these shots play a part in the agenda or they wouldn't be pushing them so hard.)
The Baltimore City Health Department even "played fast and loose" with the separation of church and state, collaborating with Johns Hopkins University and area bishops to suggest what behaviors were permitted inside houses of worship. Basically, the ruling class will decide how, when, and where and all of the other rules for you when it comes to worshipping.
Today at 2:00 p.m., I will hold a press conference with @Bmore_Healthy Commissioner Dr. Dzirasa and @HopkinsMedicine to announce a partnership focused on safe worship for religious facilities during COVID-19. Tune in live on my Facebook page @MayorBMScott. pic.twitter.com/0ihlsKrrbL

— Brandon M. Scott (@MayorBMScott) April 26, 2021
Not only that, but as of Monday, the state of Maryland is offering its employees a $100 payment to encourage vaccination. Governor Larry Hogan announced that the government was "further encouraging state employees to get vaccinated to help keep themselves, their families, and their communities healthy and safe."
The program is projected to cost $5 million and will require participants to show certificates of vaccination to state government employees at the Human Resources Office – meaning one can't simply look like a state employee, one must actually be one. -RT
As of May 1, about 2.75 million Marylanders (about 46% of the state's total population) have received at least one dose of a Covid-19 "vaccine", while 2.09 million, or 35%, were considered fully vaccinated.
The ruling class is running into problems convincing the other half of the public to just submit and take this shot. As we reported yesterday, now will come an all-out push to get as many people jabbed with this experimental gene therapy as possible so they can move on to the next step in the agenda.
President Trump is Breaking Down the Neck of the Federal Reserve!
He wants zero rates and QE4!
You must prepare for the financial reset
We are running out of time
Download the Ultimate Reset Guide Now!

This Coming Apocalypse Is The Key To Your Family's Survival!
Dear Friend,
A historian discovered by a stroke of luck an ancient book that unveils something dangerous for all of us.
Do you think you are safe ?
Click On This Link to reveal some crucial details that could make the difference for you and your family.
Over entire America a terrifying disaster will come in a very short period of time.
And the worst part is that everything has been kept hidden from our eyes.
I couldn't believe this at first...
But this is a real threat and it will come faster than you can imagine.
Click Here To Discover The Truth
Stay Safe and God bless you!