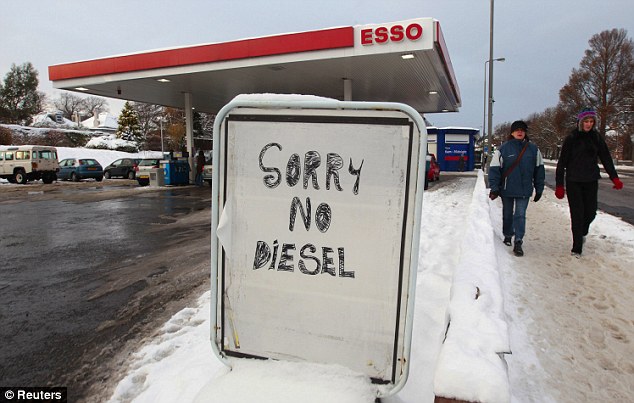 Diesel shortages have become apparent to those who utilize the fuel and many are calling those shortages "widespread." This is going to have an effect on everything, from the food supply to the cost of goods and services going forward.
...article continued below
NEW Trump 'Funny Money' Will Drive Liberals Crazy!
There's nothing liberals like to do more than complain about President Trump! One way to drive them crazy is to wave this NEW Trump "Funny Money" in their face!
This unique limited time collectible is a great way to commemorate the historic presidency of Donald Trump while also driving the libs in your life crazy...
These high quality replicas make the perfect gift for any Trump supporter.
For a very limited time, the good folks at Patriot Powered Products are giving these away in a nationwide promotion.
You can claim your FREE Trump buck right now by going here.
Don't procrastinate though...these will be gone in no time!
In the United States, refiners currently receive roughly an average of more than $150 per barrel from the sale of gasoline and diesel at wholesale prices, while paying only around $100 to purchase crude. The indicative 3-2-1 margin of $50 per barrel is based on the assumption a refinery produces two barrels of gasoline and one barrel of diesel from refining three barrels of crude. –ZeroHedge
Global stocks of refined petroleum products have fallen to critically low levels as refineries prove unable to keep up with surging demand, especially for the diesel-like fuels used in manufacturing and freight transportation. The result has been a surge in prices refiners receive for selling fuels compared with the prices they pay for buying crude and other feedstocks, boosting their profitability significantly.
Because of the shortage, diesel prices have hit new record highs.
Record gap between gasoline and diesel, but the gap will start to shrink very soon- not by leaps and bounds, but slowly.

— Patrick De Haan ⛽️📊 (@GasBuddyGuy) May 9, 2022
"Diesel supply is short all over the world due to sanctions against Russian oil and much higher post-pandemic demand as supply restocking takes place," says Peter Meyer with S&P Global Commodity Insights.
We are looking at a nightmare in terms of global diesel shortage that will shock people starting June.

Diesel inventory on the east coast is 18 million (About 3 days demand) as of today, we will run down to sub 10 million. 🚨

This is WAY below historic inventory levels pic.twitter.com/QquIeio8VF

— Wall Street Silver (@WallStreetSilv) May 8, 2022
"Certain areas of the country have seen shortages already and we expect that to continue. Supplies at New York Harbor–a hub for diesel distribution–are at a 30-year low," says Meyer according to AgWeb. "As such, the East Coast of the U.S. has been hit especially hard, resulting in diesel prices above $6.00 per gallon in that area, well over the equivalent of $250 per barrel.  Exports of U.S. gasoline, diesel, and jet fuel to Latin America is also very high, adding to the tightness."
There's a higher demand around the globe for products like diesel, heating oil, and jet fuel, which are known as "middle distillates" since they are made from the middle of the boiling range when oil is turned into products. The U.S. currently exports more than 1-million barrels of distillates every day to countries such as Mexico, Brazil, and Chile.
INFLATION IS RUNNING AT 40-YEAR HIGHS!
NEGATIVE INTEREST RATES ARE TAXING SAVERS,
CREATING FOOD SHORTAGES
AND MAKING LIFE MISERABLE IN THE UNITED STATES!
There's Little Time Left Before the
REAL DISASTER

occurs!
Download the Ultimate Reset Guide Now!