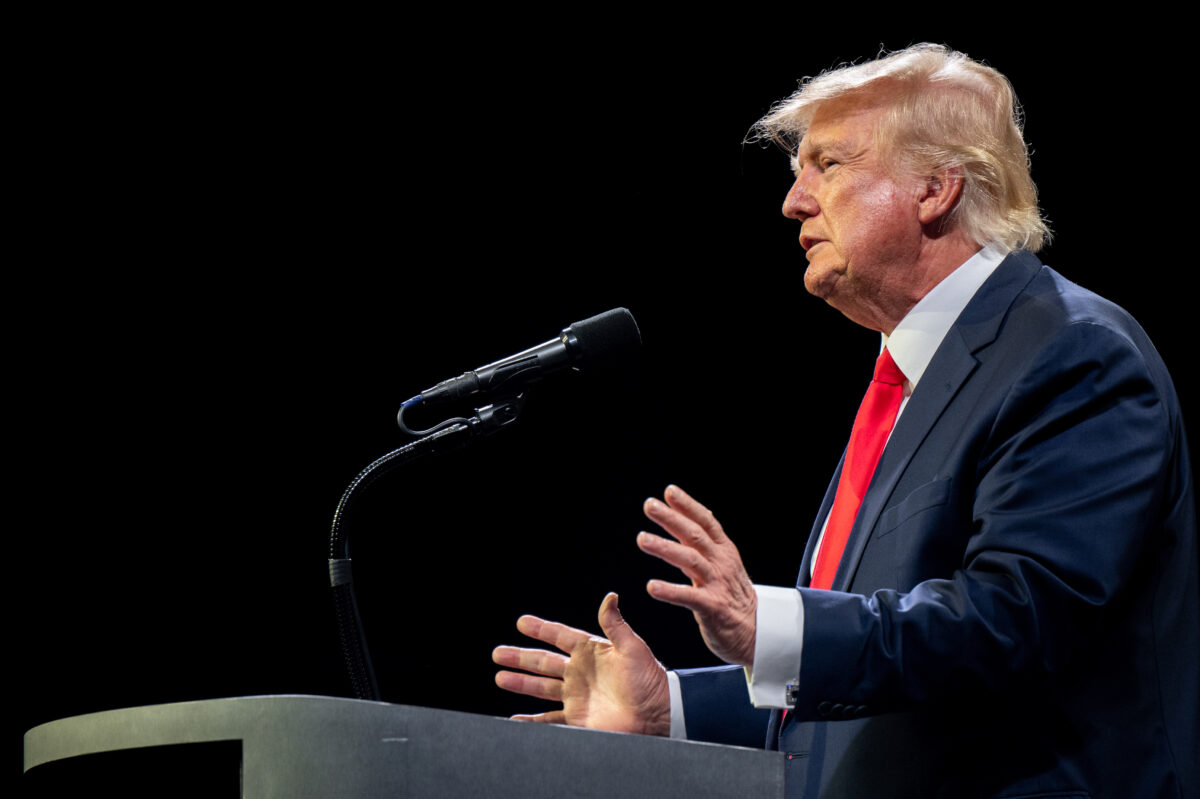 Former President Donald Trump took to Truth Social on May 16 to defend Rep. Madison Cawthorn (R-N.C.) ahead of North Carolina's May 17 primary, calling on Republicans to "give Madison a second chance" despite a series of scandals embroiling the junior lawmaker.
In recent months, Cawthorn has come under fire for photos purportedly showing him in compromising situations in what appear to be party settings, as well as for comments he made about Ukraine and Ukrainian President Volodymyr Zelenskyy.
The comments drew attacks from other lawmakers on Capitol Hill and from GOP challengers hoping to win Cawthorn's seat.
Though he has said in the past that he has been "totally weirded out" by some of Cawthorn's scandals, Trump has now come out in favor of Cawthorn's reelection bid.
...article continued below
NEW Trump 'Funny Money' Will Drive Liberals Crazy!
There's nothing liberals like to do more than complain about President Trump! One way to drive them crazy is to wave this NEW Trump "Funny Money" in their face!
This unique limited time collectible is a great way to commemorate the historic presidency of Donald Trump while also driving the libs in your life crazy...
These high quality replicas make the perfect gift for any Trump supporter.
For a very limited time, the good folks at Patriot Powered Products are giving these away in a nationwide promotion.
You can claim your FREE Trump buck right now by going here.
Don't procrastinate though...these will be gone in no time!
"At 18 years of age, Madison Cawthorn, the now 26 year old Congressman from the Great State of North Carolina, went through a life changing event the likes of which, fortunately, few people will ever have to endure," Trump wrote. "In just seconds, he lost the use of the lower half of his body, a traumatic experience to say the least.
"When Madison was first elected to Congress, he did a great job. Recently, he made some foolish mistakes, which I don't believe he'll make again…let's give Madison a second chance!"
Cawthorn has been facing backlash over several controversies, including an April 26 incident in which Transportation Security Administration agents discovered a loaded handgun in his bag when he was going through security at Charlotte Douglas International Airport.
Cawthorn, whose spokesperson didn't respond to a request for comment, was issued a citation for violating a Charlotte ordinance and was released, although police kept the firearm.
Cawthorn first drew the ire of his Republican colleagues when, during an interview on a podcast in March 2022, he accused lawmakers on Capitol Hill of offering him drugs and inviting him to participate in group sexual activities.
Also in March, Cawthorn said Ukrainian President Volodymyr Zelenskyy was "a thug" and that the Ukrainian government was "incredibly evil." The statement was criticized by House Minority Leader Kevin McCarthy (R-Calif.) and by several Republican primary contenders hoping to unseat Cawthorn in the May 17 primary.
In a statement posted to Instagram, Cawthorn suggested that attacks from "establishment actors" could continue in the form of voter fraud to shift the scales against him, noting that most incumbent members of Congress win reelection.
"They're going to drop an attack article every one or two days just to try and kill us with a death by 1,000 cuts, and that is really their main strategy," he said in the statement.
"You're starting to see this coordinated attack" against "hardcore conservatives going up for reelection across the country," Cawthorn said, likely in reference to the ongoing effort to have Rep. Marjorie Taylor Greene (R-Ga.) disqualified from running for reelection for allegedly violating the 14th Amendment by speaking at a rally.
Some opponents of Cawthorn have suggested that he should also be barred from running for reelection, although a federal judge recently dismissed the legal challenge against his eligibility.
In a recent political ad, North Carolina state Sen. Chuck Edwards, a Republican challenging Cawthorn, claimed that the congressman cares more about social media fame than he does about legislating.
Cawthorn responded by saying that critics "obviously don't understand what's going on."
He described Instagram as "a good platform to get the truth out about conservatism out to these people when they have been indoctrinated with these lies of socialism."
Still, Cawthorn faces adversity in his effort to win reelection.
Outgoing Sen. Thom Tillis (R-N.C.) recently endorsed Edwards, saying that Cawthorn "has fallen well short of the most basic standards Western North Carolina expects from their representatives." Sen. Richard Burr (R-N.C.) also criticized the young lawmaker.
Amid this slew of unflattering stories, some Republican contenders and strategists have expressed concerns about Cawthorn's electability in November.
"Conservatives in my district are terrified that we will lose this Republican seat to a leftist Biden Democrat if Cawthorn somehow wins the nomination," Michele Woodhouse, another Republican challenging Cawthorn, said in a statement following Cawthorn's comments about Zelenskyy and Ukraine.
Cawthorn has insisted that he won't accede to demands to retire early, and with the continued support of Trump, Cawthorn may be propelled forward in the primary over his GOP critics.
Despite hopes among some that Trump-backed Ohio Senate candidate J.D. Vance would lose his race, the Yale Law School graduate won the May 3 Ohio primary by nearly double-digit margins, suggesting that Trump's influence in the party remains strong.